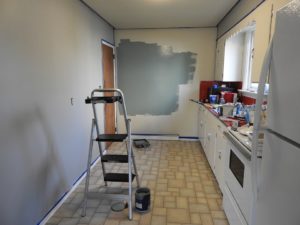 Can you remember how easy it used to be to walk into your kitchen and enjoy something to eat or drink? If you can't recall the days when you used to want to spend time playing chef in your kitchen and preparing your favorite meals, it might be time for an upgrade. When your kitchen is someplace that makes you feel good and brings you comfort then there's probably not a need for a change. However, if your kitchen has become a dreadful place to be and you cringe at the idea of inviting people over to break bread at the table, you may need to call a professional to remodel your kitchen. You feel the need to keep up with the jonses
We all have people who inspire our kitchen designs, sometimes those are friends, neighbors, family members or we get the idea from something we read or see on television. At times, when we see something that we like, we want to try it out in our home and indulge in our new-found upgrade. Sometimes our neighbors have brand new kitchen remodels that make us jealous because of how good they are. If keeping up with the Joneses is your thing, you may be thinking that your old reliable kitchen just isn't doing the job anymore and it's time for something a bit trendier that offers more comforts. But don't worry, splurging on your brand-new kitchen isn't always a bad thing. The good news is that your tendency to have the latest and greatest kitchen is going to help your home to sell better when it's time to move on to your next house.
One sure way to know if it's time for a new kitchen is if it adds to the level of disorganization in your home. If your kitchen is an eye sore with lots of clutter and is being used more as a storage area than a place to prepare meals and dine with family, you're likely in need of some relief. Kitchens that have been neglected and accumulate piles of junk or no fun to be in. They don't offer a warm and cozy feeling to any home and they don't help you to enjoy what the kitchen was made for, which is cooking, eating, and family time. If you want to declutter and get your kitchen under control, you're probably a good candidate for a redesign. Once you have your new kitchen, you'll feel rejuvenated and be able to focus more on the things that you need to when you spend time there.
Bedrock Roofing and Remodeling knows how important a remodeling Project is. Call Us today to help ease the Stess of a Kitchen or Bathroom Remodel.
CALL TODAY 810 – 691 – 0808